It can be challenging to find moments of stillness and presence in a world where we are constantly bombarded with stimulation. We wanted a simple reminder to slow things down and cultivate a sense of calm and thoughtfulness through what we call The Thinking Egg. 
Crafted from all-natural materials, we welcome you to experience the gentle reminder and simplicity offered by the Thinking Egg—a tool that encourages you to take a moment for yourself, appreciate the present, and embrace a more mindful way of living. 


provides a centre for attention during meditation
helps in combatting anxiety, stress, and distraction in your day-to-day
elegant, ergonomic, and portable, it fits perfectly in hand or standing up on your desk or bookcase
all-natural materials create a connection between you and the natural world
* If you choose to purchase a Thinking Egg Kit, you'll receive: 
 an Orijin FL•O RING  + our  Oriijn Stitched Natural Cotton Sack with your order.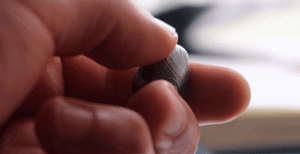 Design Specs
Weight & Texture
Specific to the natural element, each Thinking Egg variation differs in weight, surface texture and elemental composition.

Ergonomic Design
Balancing at 17mm wide and 23.38mm tall, each Thinking Egg is ergonomically designed to feel great in your hands while also being extremely portable.
Balanced & Natural

Each Thinking Egg is designed from 100% natural materials & incorporates a minimal & functional base design to allow the Thinking Egg to stand balanced while not in use.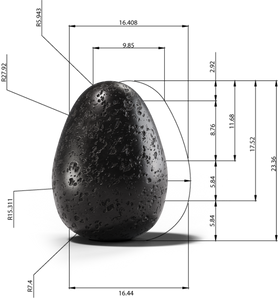 Thinking Egg Lifestyles