After two years of development, we've formulated our first line of fragrances - the manifestation of Nature's tranquillity and power, right at your fingertips. But we've changed the way it's presented - a fragrance that is no longer liquid-based; Instead in a solid state.

Designed with reusability in mind - Aroma | 59 is fully refillable and you've come to the right place to go about doing so. 
How To Add A Video Background On Shopify
Use this text to share information about your brand with your customers. Describe a product, share announcements, or welcome customers to your store.
Design Specs
Alloy Shell
Aroma | 59's composite is constructed of Zamak Alloy - a combination of aluminium, magnesium, and copper. It's superior strength is resilient to daily ware and tear while keeping your fragrance fresh, sealed & fully protected.
Capsule Design
At 66mm in length, 78mm in diameter, we ergonomically designed Aroma | 59 to feel great in your hands and be extemely portable.
Reienforced Insert
Not your standard aluminum tin here - we also constructed our insert from Zamak Alloy - this provides our fragrance a safe home within our capsules. Best of all - it's recyclable & refillable.
Natural Wax Carrier
Aroma | 59's line of entirely suspended in an alchohol-free, anhydrous natural scentless coconut wax base - great for all skin types. This allows for all of our fragrances to be un-altered by any additives or toxin basses - allowing for all our notes to stay true.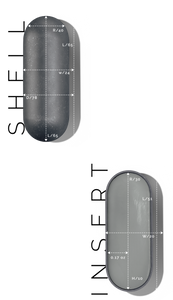 MYSTERIOUS | FRESH | INVIGORATING
Inspired by the wild coastal shorelines of the west coast. Del Mar provides a tasteful scent reflecting the freshness of the open ocean breeze & salty mist of crashing waves.

SUBTLE | EARTHY | TRANQUIL
Arbol (meaning tree in Spanish) is an aroma formulated and inspired by the morning dew on the forrest floor. Its earthy notes instill calmness and balance while carrying itself subtly on the base notes of Patchouli Amber and Musk.
WARM | SWEET | COMFORTING
Formulated to instill curiosity and inspiration, Vista provides the refreshing sensation of sweet mist of rolling clouds upon the peaks of mountain tops. It includes notes of Rose, Bergamot and Lily of the valley creating a fragrance that is subtly sweet and comforting.

DARK | AIRY | SMOOTH
Inspired by the mystery and silence of the starry night sky, Noche invigorates our senses with notes of Pink Pepper, Amber and Neroli. Dark airy and smooth, Noche is a great subtle fragrance your a night about town.